Gems are granted to the player for accomplishing achievements. Gems are used to unlock extra content in the player profile screen.
| | |
| --- | --- |
| | When you unlock an achievement or medal the game displays a message with the icon on the left and you're rewarded with gems, which you can use to purchase bonus content, including ornamental structures, portraits, colors, and coats of arms for your player profile. |
It is possible to achieve a negative balance for gems.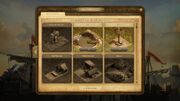 This will happen when the player downloads an online profile with obtained Achievements from the Venice add-on into the regular game and having those gems only spent on bonus items for the regular game, causing a negative balance as only the obtained gems from the regular game are shown.
Ad blocker interference detected!
Wikia is a free-to-use site that makes money from advertising. We have a modified experience for viewers using ad blockers

Wikia is not accessible if you've made further modifications. Remove the custom ad blocker rule(s) and the page will load as expected.